Poker Dice Solitaire Future – A Simple Single Player Yahtzee Game
Poker Dice Solitaire Future is another casual game from RCMadiax, which I received a while ago through #GamesMatter, courtesy of both RCMadiax and IndieGamerChick. I love this little game because it's like a Solitaire version of Yahtzee, my favorite dice game. The categories are pretty much the same, except that the final category is labeled "5 of a kind."
This game is addictive if you like dice and poker at all. It's a game of luck, certainly, but it keeps you rolling to see what you'll get. The object of course is to get the highest score. It doesn't save your scores though, so if you want to make it a competition between friends, you'd have to write down your score as each person takes a turn playing. If you don't have any options, you can choose a category to take a red chip, which will give you no points and let you roll again. Each category has 4 chips and the game doesn't end until each was clicked on 4 times.
I did encounter a few issues. Sometimes the sprites flicker during play, which is mildly annoying but no big deal. I did encounter a bug though. If you max out on 3 of a kind, 4 of a kind, have 2 5 of a kinds, and taken 2 reds for 5 of a kind, that's where this problem can occur. After achieving those conditions, a 5 of a kind was rolled. There was no possible category available, but the game was stuck highlighting 5 of a kind and would not accept a click in another category to take as a red. Clicking on it did nothing, so the only thing to do was manually end the game and start over. Another bug is that if you click on the roll button while the dice are still rolling, you lose a roll (you get three at a time).
At the time I received the game, no one had yet gotten a perfect score. Then I did! It was awesome; I went a little crazy on Miiverse lol. Here's the screenshot from that win, which I took with my camera.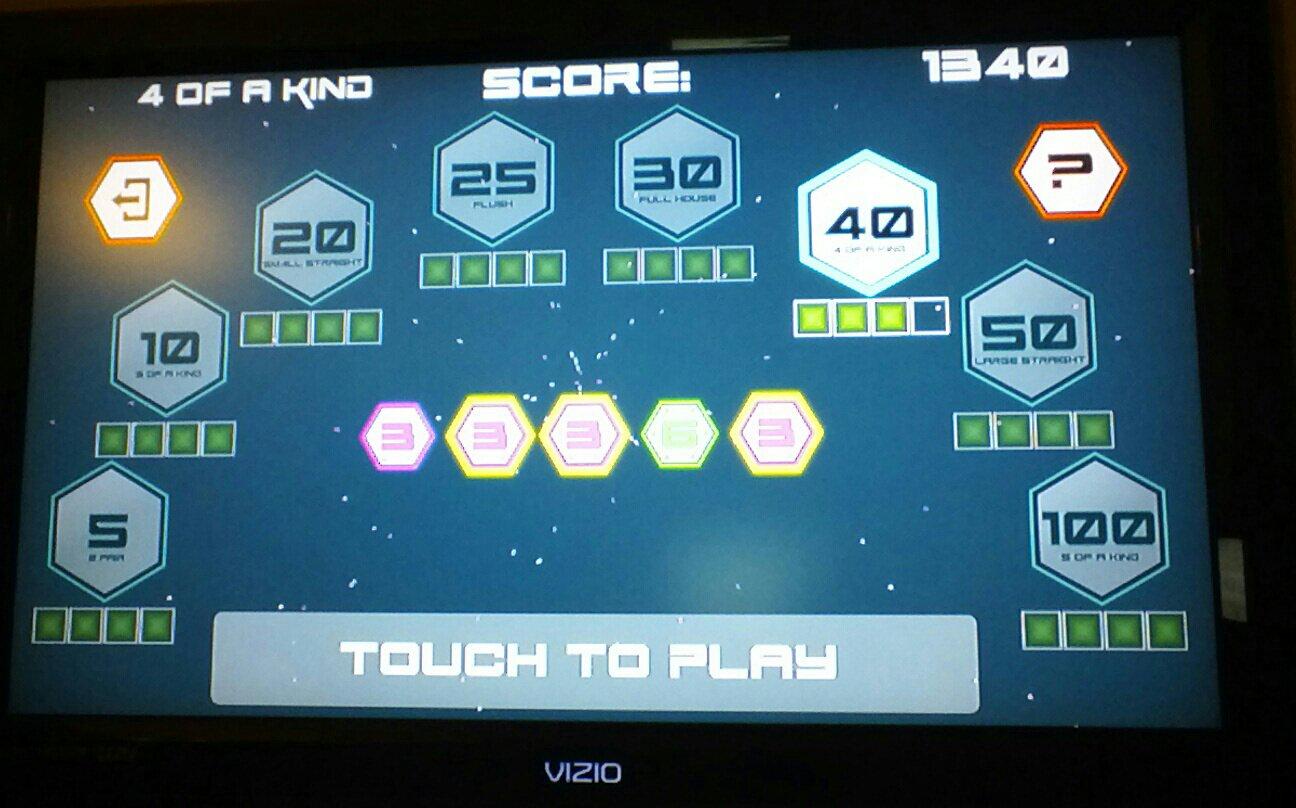 All in all, I enjoyed it more than Shut The Box. It is currently available for 69 cents, so I'd definitely recommend it to anyone who likes this kind of pick up and play game.
Posted on October 21, 2014, in Game Review and tagged Casual, Eshop, GamesMatter, Indie, IndieGamerChick, Nintendo, Nintendo Eshop, Poker Dice, Poker Dice Solitaire Future, RCMadiax, Review, Wii U, Wii U Eshop, zibookishgamer. Bookmark the permalink. 1 Comment.